During the coronavirus (COVID-19) crisis, the Bishops are providing a single diocesan live-streamed Eucharist each Sunday and on principal Holy Days. The Rt Revd Alan Wilson, Bishop of Buckingham, gave the following reflection during the Church at Home service on Sunday 29 March. Scroll down this page to watch a recording of the service.
At the heart of our Diocesan Offices there's a small chapel. A picture of the gospel story we've just heard, the raising of Lazarus at Bethany, is on the wall behind its simple altar table.
It's by Tom Bower, an internationally rated illustrator who works in the education department of Christ Church Cathedral, Oxford.
Let's look closely.
Jesus fills the centre ground, head up, but gazing at his friend Lazarus, over on the threshold of his rock-hewn tomb.
"I am the resurrection and the life…" Jesus says. "Those who believe in me, even though they die will live, and everyone who lives and believes in me will never die."
These words have rung out at the beginning of church of England funeral services for almost 500 years. There's a painting by Caravaggio that shows Jesus pointing over everyone's heads, somehow disconnected from everyone else.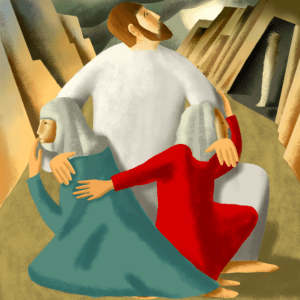 Tom Bower's image is different. It shows Jesus comforting two women, sisters Mary and Martha, sharing their grief at Lazarus' death. There's Mary, who we know from elsewhere as a deeply spiritual, people person. She's thoughtful and relational. The current crisis tests all our relationships and faith. How do we maintain our relationships when we can't be together in the usual ways that nourish and sustain them?
Many of us are immobilised. Much of ordinary life is on hold, and there's nothing we can do about it. This forces us to think in new, disturbing, uncomfortable ways about everything we thought we could rely on. It throws us back on our own inner resources. We need to be alert, to watch carefully over our own hearts and minds. This could be a marathon not a sprint, and we need to guard our hearts and minds against cynicism and despair. Jesus words express hope. Even the gloom and isolation of the grave is not the last word.
But over to the right in her red cloak is Mary's sister Martha. We know from elsewhere int eh gospel she is a slightly manic doer — someone who's always busy. Lord knows we need doers right now serving the practical needs of others. It's inspiring that hundreds of thousands of people have been volunteering to help their neighbours shopping, phoning around, networking online in new ways to prevent isolation and despair. Thank God for them all.
The last person in the picture is Lazarus himself — half dead, half alive, bound tight in his grave clothes. He's almost powerless. Jesus calls him — Lazarus, come forth! You were not made for the tomb but for life, and people you value, who hold you in their love and prayers. However isolated and alone any of us may feel, this is the bottom line — We are made for life, and love, to see each other through heaven's eyes, and not to despair. We need to hang onto that thought, even in the darkest times, and the loneliest isolation.
May God guard our hearts and minds, not to define ourselves by the limitations of the crisis we are passing through, and strengthen us to reach out and express hope, love and the joy of life itself in all we think pray and do.
Amen