I'm beginning my fourth year as Bishop of Oxford by walking and praying across Berkshire. Please do join me if you can, in spirit or in person. The pilgrimage sets off on Sunday 1st September in Old Windsor in and ends on Sunday 8th September in Thatcham.
I'm spending a day in each deanery praying in each of the 38 churches I visit with those who can gather and mostly walking between them (with a bit of travel by boat and by bike). I will be praying in every church we visit for the renewal of our life and ministry and especially for the renewal of the ministry of teaching the faith to new Christians. I will be praying for the renewal of the life of our nation in these turbulent times. I will be listening to God as I walk and to ordinary (but extraordinary) church life across the six deaneries of Berkshire. I will be praying as we prepare to welcom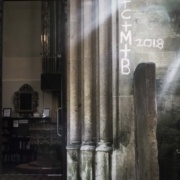 e Olivia as Bishop of Reading in November.
This time last year, I made a similar pilgrimage across the city of Oxford and it was immensely helpful to me in getting to know the place and its people. The most memorable part of the week was the sense of welcome and hope.
Full details of the trip and a chance to say if you'll be joining me for part of the walk are online here, and the schedule of deaneries is below:
Sunday 1 September – Maidenhead & Windsor
Monday 2 September – Bracknell
Tuesday 3 September – Sonning
Wednesday 4 September – Reading
6 & 7 September – rest days
Sunday 8 September – Newbury
An invitation to dwell in the Word
Paul writes in Colossians: "Let the word of Christ dwell in you richly" (3.16). One of the habits we are learning to share across the Diocese is dwelling in the word together: reflecting in all of our leadership gatherings and in many parishes and deaneries on the same biblical passages across a whole year. As we do this, we learn to listen to God and to one another for the kind of Church we are called to be: more contemplative, more compassionate and more courageous.
Two years ago, we took the beatitudes as our passage: Matthew 5.1-12. For the last year, we have been dwelling in two passages from Colossians: 1.15-20 and 3.12-17.
Our passage for this year will be Acts 20.17-38: Paul's speech to the presbyters at Miletus. It is one of the key passages in Acts as Paul roots his ministry in the call to be like Christ and gives to the whole church timeless principles for Christian mission.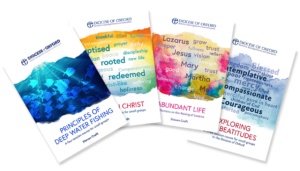 I've spoken twice on the passage recently: once as part of the series on Principles of Deep Water Fishing at our recent common vision conference and once as the basis of my charge to those being ordained deacon and priest. Principles of Deep Water Fishing is the fourth in our series of study guides and is available to order for delivery in early September.
The passage and the simple instructions for Dwelling in the Word are available to download and copy. Please do pick up this lifegiving practice in your churches if you haven't already.
Common Vision
We continue this year our call to be a more Christ-like Church for the sake of God's world. That will mean different things in different parishes, chaplaincies and schools. This term we have launched the Development Fund, and we are launching our new Parish Planning Tool on 14 September. We'll be introducing the Fund and the Parish Planning Tool at each of the four Area Days, full details here.
And finally…
A key part of the ordinary common life of our churches is to pray for Her Majesty the Queen, for our government and parliament. That call is honoured in many places, neglected in some.
May I ask that during the coming months, we all remember to pray daily and whenever the Church gathers for the life of our nation: for wise decisions and good government; for care for the poor and for the earth; for all those entrusted with the burdens of leadership; for fresh vision and the return of kindness to our politics. This regular intercession is a key part of our discipleship.
May God bless you and your family, your parish, chaplaincy, school and deanery in the coming months.
+Steven Oxford
August 2019
https://blogs.oxford.anglican.org/wp-content/uploads/2019/08/BpStevenchalkBW.jpg
321
845
Steven Croft
https://blogs.oxford.anglican.org/wp-content/uploads/2019/12/2019-blog-logo-300x117.png
Steven Croft
2019-08-30 07:15:54
2020-01-26 19:40:33
Beginning my fourth year as Bishop of Oxford