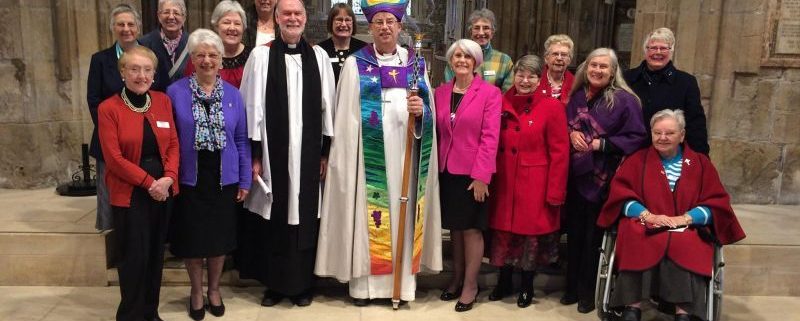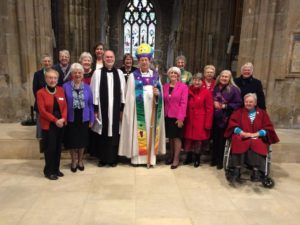 This morning I commissioned the new President of the Mothers' Union in the Diocese of Sheffield, Pauline Reynolds (on my left in this photo with the rest of her team). This is the sermon I preached at the service. I focussed on the second of the Mothers' Union's five objectives and asked every branch and every member to reflect on what I said in the coming months. The Bible readings were the story of Samuel's call from 1 Samuel 3 and Jesus' meeting with Mary and Martha in Luke 10.
"One of my favourite television programmes as a child was Mission Impossible. I continued to like the more recent series of films. I love especially the part at the beginning where the team are given their clear but difficult task. The message always contains the words: "Your mission if you choose to accept it". It always ends with "This tape will self destruct in five seconds".
It is very good to be here with you in the Cathedral today for this special service. I would offer my sincere thanks to Sheila Wood for her leadership of the Mothers' Union in this Diocese over the last three years. I am thankful for the gifts Pauline Reynolds will bring to this role and assure her of my prayers and support as she takes up this office today. My thanks also to the outgoing team and to the new team who will be commissioned later in this service.
And my thanks and appreciation to the Mothers' Union for all that you do across the Diocese to serve others and to fulfill your objectives.
In the light of the readings you have chosen, I want to say two things to Pauline and to all of you as you look ahead over the next three years.
The first one can be said quite briefly, but I think it's important. Don't worry about your membership numbers and recruitment to the Mothers' Union.
I say that not because Pauline is particularly concerned about this but because the Mothers' Union generally, in my experience, can be more concerned about numbers and recruitment than about fulfilling its objectives. This is understandable. But I believe it is mistaken.
A smaller, active Mothers' Union working towards the five objectives is worth more in a parish or in a deanery or in a diocese than a large Mothers' Union which has a lot of people at meetings but does very little. A Mothers' Union which is outwardly focussed and working on these five objectives together will attract far more of the right kind of members than a Mothers' Union which exists simply to hold monthly meetings. A Mothers' Union which is outwardly focussed and working on these five objectives together may not need to hold many meetings at all. The meetings they did hold would be focussed very tightly on these aims. But they may do a power of good in all kinds of ways.
So what are your objectives? What is your reason for existing? In different language what is your mission?
Your five objectives are listed on the inside back page of the service booklet. They are clear and vitally important for Church and society and for many individuals within it. They should be the reason people join the Mothers' Union and the reason people hold office within it. Perhaps I should have arranged for the Mission Impossible theme tune to play at this point in the sermon.
You are committing yourselves today:
• To promote and support married life
• To encourage parents in their role to develop the faith of their children
• To maintain a worldwide fellowship of Christians united in prayer, worship and service
• To promote conditions in society favourable to a stable family life and the protection of children and
• To help those whose family life has met with adversity.
This is your mission if you choose to accept it.
I hope these five objectives are read regularly at Branch meetings and Committee Meetings and special events. I hope they shape your work. If it would be helpful, I would gladly spend some time working through all of these objectives with you as part of my own support for what you do.
Don't worry about how many members you have. Read the story of Gideon's army. A small committed group will always accomplish more than a large group that does not know what it is for. Focus instead on your unique mission – as you do that I believe the right people will want to join you.
Second let me say something to you at the beginning of this triennium and to your new President about the vital importance of the second of your objectives: your mission, if you choose to accept it, is to encourage parents in their role to develop the faith of their children.
There is no greater gift that we can give the children in our families, in our churches, in our schools, in our wider society than the gift of faith. The whole course of a child's life will be affected by developing faith in childhood. What an immense gift it is to know that you are loved by God, the maker of the universe; to know that you are called to a lifelong friendship with your creator; to know that you are part of a worldwide family; to understand the great gift of prayer; to receive God's guidance at life's great crossroads; to develop Christian character; to become all that you are meant to be. All of these gifts and more are given through the development of faith in children. Lives are saved, deepened and enriched, families are transformed and the world is changed.
Samuel is nurtured in faith as a child through his mother Hannah who prays for him and prays with him. He is nurtured in faith as a child through Eli who instructs him in prayer and in listening to God's voice. Samuel will go on to lead Israel and change his nation. But the foundations of his life and his friendship with God are laid in childhood.
Mary and Martha grow up in a home where they learn both to work and to pray. They are sisters. The foundations of their love for God have been laid in childhood and laid in the home. It is true that for one, Mary, prayer becomes her focus and for another, Martha, action takes priority. We know from the story that Mary has chosen the better part. But prayer and action both are needed. Our strength is born in God. Our faith is lived out through what we do.
Why do I focus on this objective today? Sadly, because your work here is urgently needed. The evidence is that Christian parents today are not developing the faith of their children.
These statistics were in research published last year . Anglican parents who say that religion is very important in their lives were asked these questions.
Is it important that children learn good manners at home?
94% said yes.
Is it important that children learn tolerance and respect at home?
83% said yes.
Is it important that children learn religious faith at home?
How many do you think said yes?
36%.
Let that sink in a little. Only one in three committed Anglicans believes that Christian parents should develop the faith of their children. As a Mothers' Union that should disturb you as it disturbs me. I wonder what we might do about it?
Let me offer four things that you can do and can encourage yourself.
The first is to become more like Mary and Samuel. Set as a priority the developing of your own relationship with God, to listen, to be sustained, to draw apart often. A relationship with God is caught, not taught. It can only be taught from someone who is growing in that life of prayer themself. Set aside time each day to pray, discover how if you do not know how, go deeper into God. Weave that prayer into daily life, especially the saying of grace at meals.
The second is to teach the faith within your own family, to your children and to your grandchildren. Every Mothers' Union member at least should be seeking to develop faith within their own children, grandchildren, nephews, nieces, members of our extended families. We do that through our prayers, through conversation, through encouraging the parents, through providing gifts and resources, by inviting children into the family and fellowship of the church in different ways.
The third is to campaign together to ensure that every church which has a Mothers' Union branch is friendly and accessible to children and families. I want you to be my allies here – God's secret agents in support of parents and their children. I want to enlist your support in ensuring that every church which has a Mothers' Union branch also has crèche facilities, a toddler group, a place where children learn on Sundays, family events at festivals, groups for young people, Messy Church, people who will befriend young families.
And the fourth is to campaign together to ensure that every church which has a Mothers' Union branch is also teaching faith to the parents so that they can develop faith in their own children. The number one reason, I think, why parents do not pass on their faith to their children is very simple. The parents themselves don't have the confidence to do so. They have not been taught. Will you work with me to ensure that in every church where you have a Mothers' Union branch, there is an opportunity every year for adults to learn the faith from the very beginning .
Here are four things you can do to fulfill your second objective: to encourage parents in their role to develop the faith of their children.
1. Deepen your own faith
2. Develop faith within your own family
3. Ensure every church is friendly and accessible to children and young people
4. Ensure every church is teaching the faith to adults
I will provide Pauline with a copy of this sermon. I would like you to discuss it at your next branch meeting and decide what you need to do to fulfill this objective in the coming year.
The Mothers' Union has a vital mission. Focus on what God has called you to do. May God bless you in all your service in the coming years".
https://blogs.oxford.anglican.org/wp-content/uploads/2016/02/muservcie.jpg
600
800
Steven Croft
https://blogs.oxford.anglican.org/wp-content/uploads/2019/12/2019-blog-logo-300x117.png
Steven Croft
2016-02-20 12:43:36
2016-07-16 09:49:40
Commissioning Service for Mothers' Union President 2016