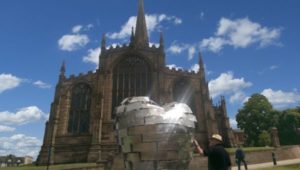 Rotherham has a new heart and it's made of steel.  The 2m high sculpture was unveiled in the gardens outside the Minster on Saturday morning.  The photos look great and I look forward to seeing it for myself over the next week or so.
The Heart of Steel is by the Sheffield sculptor, Steve Mehdi.  It will form one part of the Yorkshire Man of Steel: a massive, 30m high stainless steel sculpture and Visitor Centre which will sit on the site of the former Tinsley cooling towers, just next to the M1.
The Man of Steel is a landmark project for the region which honours the past and looks to the future.  It celebrates the people and places of South Yorkshire where so much was forged from coal and steel.  It signposts the new technologies that will secure the region's future success.  You can read more here: http://www.yorkshiremanofsteel.com
But what does it mean to set a heart in the centre of Rotherham at the present time?  It seems to me to be a very powerful symbol.
The heart is a symbol for what is going on deep inside us: our thoughts, our emotions, our will, our inner life.  Ours is a world which focuses so much on external appearances: what we look like and how things seem.  Look at any rack of magazines and see the evidence.
But when God looks at you and I, God looks past how we look.  God sees right through our clothes and our bodies and the masks we sometimes wear.  God looks at us and sees right through to the heart.
There's a story in the Bible about the prophet Samuel.  Samuel has to choose a new king for Israel.  God tells him to travel to Bethlehem, and to anoint one of the eight sons of a man named Jesse.
Samuel comes to Bethlehem and Jesse's sons are brought before him one at a time.  Samuel looks at the eldest, Eliab and thinks to himself, surely this is the one.  But God says this to him:
"Do not look on his appearance or the height of his stature, because I have rejected him.  For the Lord does not see as mortals see; they look on the outward appearance, but God looks on the heart".
The heart is a symbol for self-examination: for having the courage to look inside ourselves and to see what is really there.  The heart in the centre of Rotherham is made of stainless steel .  When you look closely, it will be like looking in a mirror.  Ask yourself what is going on inside.
The Bible gives us words and pictures to describe our inner life.  According to the Bible, the human heart is a difficult place.  Sometimes it can feel like a desert: parched, dry and starved of affection .  Sometimes it can be a place where evil festers and grows and overflows into hurtful words and actions.  Sometimes it our hearts, our inner lives, become like stones within us: we become hard-hearted, stubborn, shutting out the love and light of others.
So how is your heart today?  It takes real courage to look inside ourselves. What are men and women to do when we look at our reflection and see that our hearts have become dry or dark or stony?
The location of the Heart of Steel is a very powerful one.  It stands next to Rotherham Minster whose spire points to heaven and to God's great mercy and love.
God is in the business of mending broken hearts, of watering deserted hearts, of bringing light to the darkest places within us, of changing hearts of stone back to hearts of flesh.
I hope that many people will make the journey to the Heart of Steel and take a few moments to look at their reflection and look within.  I hope they will then find their way into the quietness of the Minster and sit and pray and open their hearts to God once again.
I pray that we will see hearts transformed by the love of God once more.
Here is a prayer you can say, taken from Psalm 51:
"Create in me a clean heart, O God,

and put a new and right spirit within me".
---
The story of Samuel anointing David is in 1 Samuel 16
https://blogs.oxford.anglican.org/wp-content/uploads/2015/07/steel.jpg
339
600
Steven Croft
https://blogs.oxford.anglican.org/wp-content/uploads/2019/12/2019-blog-logo-300x117.png
Steven Croft
2015-07-07 11:38:13
2016-07-11 13:56:31
A Heart of Steel