Some of us might have been surprised to see Artificial Intelligence so high on the agenda for the Prime Minister's meeting with the President Biden this week. The President pledged to support Britain's convening of a major global conference on AI regulation later this year.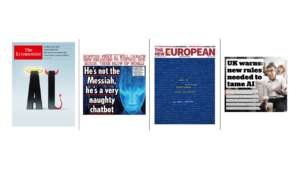 The calling of the conference is part of the government's response to a series of concerns about AI voiced by leading figures in the tech industry in recent months warning of the need to regulate both research and deployment of AI. Many of you will know that I have been working in this area now for a number of years in my work in the House of Lords and for three years as part of the government's Centre for Data Ethics and Innovation. This seems a good moment to bring the Synod and the Diocese up to date on the potential and concerns around AI and also with developments in the Online Safety Bill.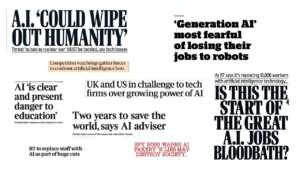 Artificial Intelligence is developing apace and is affecting every part of our lives. Global investment is increasing. New products are rolled out with bewildering speed. Microsoft launched Chat GPT on 30th November last year. By January it had become the fastest growing consumer software application in history gaining over 100 million users worldwide. Chat GPT is currently leading the field among new AI's available to the public based on Large Language Models: the manipulation not just of data but of language in a way which seems human and intelligent. Chat GPT is already transforming search, the way children do their homework and possibly the way clergy prepare sermons. Version 4 was launched in March; an App came out in May. Microsoft will incorporate a version into Office later this year.
The software has the potential to reshape the legal profession, call centres and knowledge based enterprises. Other developments in AI are transforming medicine particularly in the rapid diagnosis of cancers or more accurate scanning and in the development of remote medicine.
There is huge potential here but also significant jeopardy. Two of the three godfathers of AI, Geoffrey Hinton and Yoshua Benigio have sounded warnings about research and deployment running much faster than regulation and public debate. In May a coalition of industry experts including the head of the company which developed Chat GPT and of Google Deep Mind issued a serious warning that Artificial Intelligence could lead to the extinction of humanity. They argue that:
"Mitigating the risk of extinction from AI should be a global priority alongside other societal scale risks such as pandemics and nuclear war".
What are the risks? They include the weaponization of AI by bad actors; the generation of misinformation to destabilise society, including in elections; the concentration of power in fewer and fewer hands enabling regimes to enforce narrow values through pervasive surveillance and oppressive censorship"; and enfeeblement, where humans become dependent on AI.
These warnings are not uncontested and we are currently seeing a pushback against some of these dire warnings. We are probably decades away from an autonomous general artificial intelligence. These Terminator like scenarios can be used to distract attention from the more immediate but real dangers – such as the rapid deployment of facial recognition technology in security and policing without proper governance. But more not less public debate is needed which is mindful both of the immense good this technology can enable and the severe harm.
What then has this to do with the Church and with Christians? We clearly need to engage in an informed way as this technology develops for the sake of present and future generations. As Christians we have a distinctive understanding of human dignity and person hood and what it means to be human. Our identity is rooted in the faith that humankind is made in the image of God, to quote Genesis 1. We place our faith and trust in our Father in heaven who made us and who loves us. We are able to work in partnership with technology and machines of all kinds. But not uncritically.
If technology undermines personal safety or dignity, through stripping away capacity for creativity and meaningful work, then we should be concerned. If technology undermines the democratic process or public truth, we should sound a warning. If the development of autonomous weapons gives life and death decisions to a machine we should raise our voices in every way possible.
Second, our understanding of what it means to be human is rooted in the incarnation. We believe that Almighty God, maker of heaven and earth, became a human person in a particular time and place to redeem all of humanity in every time and place. There is no higher statement of value and worth for humankind that the truth that God became a person in Jesus and a person who embodies the distinctive Christian character of the beatitudes: contemplation in a relationship with God, compassion in love for the world and courage in a desire for justice and for peace. We are called to embody those values in the life of the Body of Christ, the Church.
This means again that the Church will need to be both critical and cautious in response to new technologies. Our humanity is not negotiable. We need to say clearly that the future of humankind is not unlimited enhancement and mechanisation and automation and delegation. We will want to see robust public debate and good governance which is alert to dangers. We will want the commonly owned values of our society, based on our Christian inheritance, to be lived out online as well as offline. We will want to ensure a strong role for government in regulation. If this is in the hands of major global tech companies then power and wealth and influence will be concentrated in an ever smaller group of unaccountable technocrats. We will want to see strong human- AI partnerships as a foundational principle in medicine, in law enforcement, in automation of work, in education.
And third our understanding of our humanity is formed by our faith and trust in the Holy Spirit, who gives life to the people of God. The Spirit of God comes to dwell within the heart and life of the believer, to give life in all its fulness, to form us into the likeness of Christ and to empower us to change God's world for the better.
The Spirit leads us into all truth, we believe. One of the concerns to be alert to in this present phase of AI development is truth and authenticity. The new tools make the creation and dissemination of authentic deep fakes much easier. How do we know on the night before an election that the picture of the politician saying or doing something terrible is true or not? If Chat GPT or Google tells us that something is true, how do we test that in the real world if the internet is our only source of information? The preservation of truth has to be one of the highest priorities in a democracy and for the Church.
One of the other marks of the Spirit's life is creativity. Remember in Exodus how the Spirit is given to skilled workers in fabrics and metals and wood in the building of tabernacle; remember how the Spirit inspires architects and builders and musicians and the arts.
The new generation of AI has a massive capacity for creativity. For the very first time we can all access a tool which will write a greetings card in the style of a Shakespeare sonnet or produce a new play or opera. So far the quality is not high – but it will get better.
My colleague Simon Cross, who is funded by the Templeton Foundation and works with me on these issues, has recently summed up the shift in the new generation of AI tools in this way:
The first iteration of digitalisation extracted data about us. In the first digital world, facts like our age, ethnicity, location and viewing habits could be extracted – or inferred with ever increasing granularity – and then used to tailor our attention: surveillance to sell. But the onus was on our information and opinions, not our ideas. There have been a host of downstream harms and unintended consequences that we are still discovering. But now, even before that first clean up is complete, Generative AI is coming for our creativity. Everything, but everything we write, or say, or sing, or paint, or draw, or sculpt, or… everything: all of it, is – or soon might be – hoovered up inside a 'foundation model', because our creativity is the coal that powers this new generative AI furnace.
What will the consequence be for our humanity and identity if AI takes the major share of human creativity: the arts as well as the sciences. The answer is that we become less than human, less than we can be. The spark of the divine image begins to be extinguished. We need to be alert; we need our prophets; we need to preserve truth and creativity and dignity for future generations.
Finally, as Simon argues there, the first clean up is not yet complete. Indeed it has hardly started. The Online Safety Bill currently in Committee Stage in the House of Lords is a key piece of legislation. It is not yet strong enough and over the last three months I've been working with a cross party group of peers, charities and agencies, and connecting with MPs, to seek to strengthen the Bill, with Simon's support and that of other Lords Spiritual.
I am increasingly convinced that the world has created a deeply toxic environment for the mental health of children and adults through social media. We will look back on the last two decades and the lack of regulation in future years with disbelief. The range of harms affects every section of society but children and the vulnerable most of all.
The Letter of James is absolutely clear about the power of the tongue and of words to do harm.
"How great a forest is set ablaze by a small fire. And a tongue is a fire….a restless evil…. full of deadly poison."
This fire, this evil, this deadly poison is magnified a hundred fold by social media and online engagement and has a massive effect on peoples real lives in a range of ways. The multiplication happens through 24 hour access even in our most private spaces; through the clever fostering of addiction; through algorithms which drive the most controversial content to our feeds and now increasingly through AI generated material.
I have been corresponding in recent weeks with Amanda and Stuart Stephens well known to some members of this Synod whose 13 year old son Olly was tragically murdered in Reading in 2021 by other children of a similar age. Social media played a massive part in his murder especially through incitement to knife crime. Amanda and Stuart have joined other bereaved parents in campaigning for a stronger bill.
The harms caused to children by pornography have been a feature of several of amendments and especially for strong age assurance and verification protection.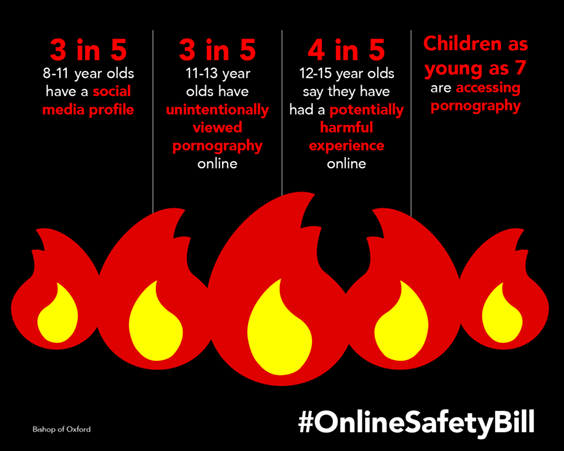 Adults too are not immune to harm from social media as many here will know. The Bill needs to be further strengthened as at attempt to regulate the damage already done. We need to learn from the damage caused by the last 20 years of social media to better regulate for the next generation. The government has not yet agreed to the major changes which are still needed though there is still time to do this.
There may yet come a moment when it will be helpful for members of this Synod to write to their MP's on this matter.
There is much that can be done in local churches and schools to help and support parents and children in responsible approaches to the internet. We will be giving consideration later in this Synod to the magnificent work of our Board of Education and our engagement with children and young people now and into the future. I hope this address sets a context both in outlining some of the challenges the next generations will face, the need to monitor and limit access to social media and the resources of Christian faith to establish and build a vital core of Christian identity rooted in God the Trinity, Father, Son and Holy Spirit.
+Steven
10 June 2023
Photo: Spirit of God awakens a new life, both dead and alive, detail of stained glass window by Sieger Koder in church of Saint John in Piflas, Germany (c) Shutterstock
https://blogs.oxford.anglican.org/wp-content/uploads/2023/06/Synod_june_23_presidential_blog.jpg
321
845
Steven Croft
https://blogs.oxford.anglican.org/wp-content/uploads/2019/12/2019-blog-logo-300x117.png
Steven Croft
2023-06-10 14:01:26
2023-06-10 14:01:26
Rooted in God the Trinity, Father, Son and Holy Spirit