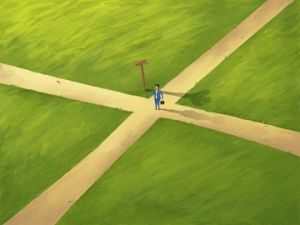 Twenty-one bishops from across the north of England are visiting the Diocese of Sheffield in September for four days of mission together, led by the Archbishop of York.  We've called the mission "Crossroads".
As far as I know, it's the first time so many bishops have worked together in mission in this way in a single Diocese in the long history of the Church of England.  Many are bringing teams of young adults to work with them.  The Bishops are from every Diocese in the Province of York and from every tradition.  They include the most recent Bishops to be consecrated for the north: Bishop Libby Lane of Stockport and Bishop Philip North of Burnley.
After an initial service of commissioning in the Cathedral on Thursday 10th September, the Bishops will be assigned to different deaneries.  They and their teams will stay with clergy and parishioners.  The Bishops and their teams will lead hundreds of different community visits and events on Thursday, Friday and Saturday.  They will join in services in local parishes on Sunday morning (13th).  We will end the Crossroads mission with a single, large scale event on Sunday afternoon (details to be announced).
Born in prayer and carried forward in prayer
This four day mission to the Diocese of Sheffield was born in prayer.  In May 2014, the Archbishop of York invited all the bishops of the north to join him for 36 hours of prayer on Holy Island, one of the cradles of Christian faith in northern Britain.
One of the convictions born in the bishops as we prayed together was that God was calling us to engage in evangelism together to the North of England.  The idea was born of bishop's visiting one Diocese each year in sequence, if possible with teams of young adults.  The dates are already booked for similar missions to Blackburn next year and Durham in 2017.
This means that Bishops across the Province will be praying for us and later this week, Bishops will be linked with the Deaneries they will be visiting in September.
However the four days of mission also needs to be rooted in prayer in this Diocese and I would ask that it is the focus of regular prayers and that we pray together for many people to hear the good news of Jesus through that four days in September.
What's the aim of the mission?
Our aim is to sow the good seed of the gospel in many different places in September.   We want to go to people who are currently outside or on the edge of the Church.  Our hope is that through Crossroads, many people will join enquirers courses in the autumn and come to a living and lifelong faith.
We work together and in partnership with God's grace in an annual cycle of sowing the seed of the gospel in the summer and early autumn; offering groups for enquirers and new believers from October to Easter and deepening the discipleship of every Christian from Easter to the summer.  The Crossroads mission exactly fits this pattern.
What can we do now?
Area Deans will begin to plan what will happen in your deanery from Easter onwards.  Please begin to think how your own parish could engage with Crossroads.  We'll be producing some special materials to help with this in due course.
In the meantime please pray for the whole mission for God's grace and blessing on all that we do.
Here is a bible verse and a prayer to help you begin your preparation:
"Stand at the crossroads, and look, and ask for the ancient paths,
where the good way lies; and walk in it, and find rest for your souls"
Jeremiah 6.16
Loving God,
This world you love
stands at the crossroads.
Help us help others
to discover your Way
to know your Truth
and to share your Life
in your dear Son, Jesus Christ.
Inspire us by your Spirit
to sow the good seed of the gospel
throughout this Diocese
with imagination and compassion,
that many will come to know you
and many will be strengthened in their faith,
Through Jesus Christ our Lord
Amen.
https://blogs.oxford.anglican.org/wp-content/uploads/2019/12/2019-blog-logo-300x117.png
0
0
Steven Croft
https://blogs.oxford.anglican.org/wp-content/uploads/2019/12/2019-blog-logo-300x117.png
Steven Croft
2015-03-17 11:04:42
2016-06-29 11:07:07
The Crossroads Mission