We stand at a key moment in the life of our Diocese. For two years, we have been exploring God's call to us and our common vision. What kind of Church are we called to be? A more Christ-like Church for the sake of God's world: more contemplative, more compassionate and more courageous. We want to set that vision of Christ at the heart of who we are. This remains our central vision.
(If you would prefer to watch +Steven deliver this address, scroll to the bottom of this page for the video.)
What are we therefore called to do together next? We have listened with God to the big questions facing our world: the environment; questions of poverty and equality; mental health; the challenges and opportunities we have as a Diocese. We have begun to respond to those questions in seven different areas of focus.
The first two parts of our common vision process continue. But a third question has come into focus over the last few months and will be our focus for the remainder of this year. How do we all share in this common vision? How do we enable every local church, every deanery, every benefice, every parish, every Christian to share in this process and find our place?
That question was our focus as the Bishop's Council gathered at High Leigh a few weeks ago with over a hundred representatives nominated by each Deanery. It is my focus this morning. It will be our focus at four Area Days in the autumn. We hope every parish will share in those.
The challenge is significant and vital. How do we help one another move forward together in good and appropriate ways? We are, as we know, a living growing network of more than a thousand churches, chaplaincies and schools across three counties, serving vastly different communities. Each local place has its own texture and story, and so does each church. We are large churches and small churches. We are churches of every different tradition. We are chaplaincies and schools as well as parishes. How do we all find our place and discern what we are called to do as we work together?
There is a powerful moment in the story of the call of the first disciples told in Luke 5. Jesus is teaching by the lakeside. He gets into the boat of Simon Peter. After he has finished teaching, he says to Simon: "Put into the deep water and let down your nets for a catch".
Simon answered, "Master we have worked all night long but have caught nothing. Yet if you say so, I will let down the nets".
They put into deep water. They find a miraculous catch. Simon falls to his knees, saying: "Depart from me, Lord, for I am a sinful man". Jesus says to him: "Do not be afraid. From now on you will be catching people".
I hope that this is the moment when we want to say to each other as parishes and benefices and deaneries:
"Put into deep water and let down your nets for a catch".
I expect that some people at least will respond in a similar way to the disciples: "Look, we have worked all night and caught nothing". Ministry has not been too fruitful of late. The things we have done are not really making a difference.
But I hope they will go on to say: "Because that is the call of Jesus we will let down the nets".
And I hope that in many different places, there will be the equivalent of a miraculous catch of fish: new disciples; renewed vocations in the workplace; a fresh relationship with schools; new congregations planted; childrens and youth work renewed; good news for the poor; the captives set free; signs of the Kingdom in ways we do not expect.
And I hope that in many different places we will fall down on our knees to God in wonder and amazement: "Depart from me O Lord for I am a sinful person" as we see the great harvest of the Kingdom beyond our expectations.
Two important principles
How do we help every parish and benefice and deanery engage with this big vision for mission as a more Christ-like Church? Before I talk about some very practical tools, let me first establish two important principles.
The first turns around that moment in the gospel story where Simon Peter responds to Jesus:
"If you say so I will let down the nets".
If our common vision process is only about doing what the Bishop says or what the Diocese says then we will not bear fruit. The Church of Jesus is simply not that kind of organisation. I do not have the power or the authority to enable this vision to happen or to persuade PCC's in distant corners of the Diocese to do any part of it. Nor do I want such authority.
The only person in the life of the Church who is able to call the Church to mission is Christ. It is when the local church hears the call of Christ that we will let down the nets: because you say so. That is why the process of renewal begins and continues and ends in encountering God in Jesus Christ and setting Christ again at the centre of our common life. As we focus on Christ then we begin to hear in different ways that call to be good news to the poor and set the captives free. We hear again the command to put out into deep water and let down the nets. We engage in mission in ways which are life-giving to the church do not drain away our energy.
Because you say so. Because Christ says so: Jesus who is fully God and fully human. Christ who shows us what God is like and Christ who shows us what it is to live an abundant life.
Many a parish vision statement flounders because God's people do not first catch a fresh vision of Christ and all they hear is because the Vicar says, so I will let down the nets. Even more diocesan visions fail because God's people do not first catch a fresh vision of Christ. All they hear is because the Bishop says so I will complete my mission action plan. But when we hear the call of Christ in the Scriptures and in the beauty and need of the world, then we are ready for the deep.
That is why it is vital to keep our call to be Christ-like right at the centre of everything we do in common vision. That's why it is vital for local churches to engage with this process at the right pace. That is why tools and resources need to be full of hope and life and full of Christ's call, not ours.
My second principle is that this common vision and call will unfold in very different ways in our very different deaneries and parishes.
We are not all the same. We are not all in the same place in our growth and development.
God's Spirit is a Spirit of infinite variety and creativity. Right from the beginning, let's give one another the opportunity to do things differently. That is essential because of our different contexts, but also it's something to delight in for its own sake.
Another danger of parish and diocesan visions is that they value too much the virtues of standardisation, efficiency and control: a tendency that John Drane and others have called the McDonaldisation of the Church.
But those virtues are the opposite of the gifts the Spirit brings of creativity, diversity, new gifts and life. It is those gifts we need to cherish in our common vision process. Church is often renewed through what happens at the margins and on the edge. Church is rarely renewed from the centre and by the plans of bishops.
Our goal is not to encourage as many churches as possible to do the same thing in the same way. Our goal should be to encourage churches to engage in common vision in a thousand different ways according to local discernment and to learn from one another as we go.
New tools and resources
So what are the tools we are developing to help local churches and deaneries engage with the process? They are summarised in this leaflet.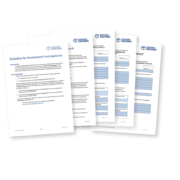 The first is our development fund, which is formally launched today. All the documents about the fund are live on the website now. Applications are open for the first round of funding. We are making £1 million per year available for three years to support local mission. Not every response to common vision will need funding. Many will be resourced locally. But making funds available in these ways we hope will help and encourage local creativity and diversity and lead to the renewal of good local mission.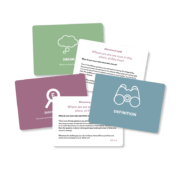 The second is our Parish Planning Tool, building on all we have learned through Mission Action Planning and appreciative enquiry tools and Partnership for Missional Church. We hope that parishes and deaneries will pick up and begin to engage with the tool as we move into the autumn as the time is right for you to renew your present plan.
The Parish Planning Tool is not something you have to use. It is a resource to help. It's a tool which is designed to build hope and confidence and put the value of being a more Christ-like Church right at the heart of our planning for mission. The Parish Planning Tool is in its final stage of development. It will be published in August for use in September and can be pre-ordered here.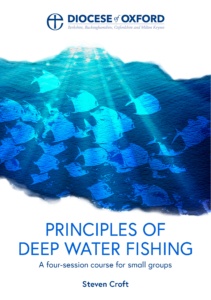 The third is a new series of Bible Studies, Principles of Deep Water Fishing (available to pre-order), which I hope will resource this particular part of our common vision process. They are based on the talks I was able to give at the High Leigh conference on Acts 16-20, and I hope will help local churches catch the vision for what it means to put out into Deep Water.
The fourth is a series of four Area Days in the autumn. Invitations will go out to every parish in the next week or so and we will invite every place to send some people to catch the next stage of the vision and to work with the new planning tool.
Common vision in the life of the Diocese
Finally and briefly, what is happening to common vision in the life of the Diocese? There are new developments in each of the seven focus areas. These were reported at High Leigh, and the short films of those reports are on the diocesan website.
Our plans for chaplaincy in schools are moving forward well. Personal Discipleship Plans have gone well in the pilot stages and are beginning to be rolled out across the Diocese. We are preparing two major bids to the national Strategic Development Fund to support the development of new congregations, the first for the whole Diocese and the second focusing on Milton Keynes; environmental audits are being slowly taken up by parishes; our working group on children and young people is due to report in the autumn.
The Bishop's Staff and Bishop's Council have given very careful thought to the proposal to increase our capacity in the three large Episcopal Areas. As you know, three of our archdeaconries are twice the average size, and the archdeacons' workload is increasing. We agreed in May to a proposal to appoint three full-time assistant archdeacons, one in each area, to build on the excellent work being done by our current assistant archdeacons. We propose funding that for the initial year from our common vision funds and then blended funding thereafter hopefully thereafter as part of our normal running budget with the proportion increasing by 20% per annum. However, we recognise that this decision needs to be fully owned and understood by this Synod and so we will bring this one back in November with a paper to give Synod a full opportunity to comment before we move ahead.
There is much more going on in the life of the Diocese than can be embraced by common vision. The 2018 Synod Reports give a fuller picture. I also want to draw Synod's attention to the development of our voluntary chaplaincy to LGBTI people and their families that fulfils one of our commitments in the Pastoral Letter, Clothed with Love which we issued in November.
We are called together to put into deep water and let down the nets. We are called to do this not because of any human imperative or scheme. We are called to do this because of the call of Christ. May Christ continue to be at the centre of all we seek to be and do together.


Bishop of Oxford
Presidential address to Diocesan Synod
15 June 2019
Watch Bishop Steven deliver this address
Click the speaker icon in the bottom right of the video frame to switch on audio.
https://blogs.oxford.anglican.org/wp-content/uploads/2019/05/net-1048245-2.jpg
475
845
Steven Croft
https://blogs.oxford.anglican.org/wp-content/uploads/2019/12/2019-blog-logo-300x117.png
Steven Croft
2019-06-15 10:28:08
2019-06-17 12:45:02
Put out into deep water: Diocesan synod